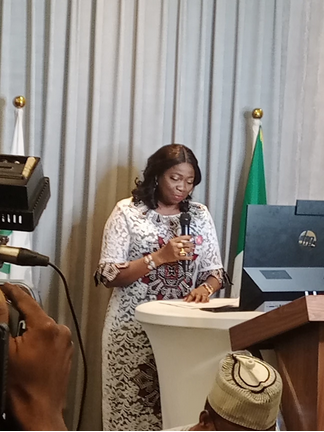 The Federal Government says it is making Nigeria more business friendly by offering tax incentives through the 2020 finance bill.
The Vice President Prof Yemi Osibanjo made this known while delivering his address at the virtual third Nigeria diaspora investment summit ,Friday in Abuja.
According to Osibanjo,"what we have done in furthering our own economic policy is to attempt to make the fiscal environment as attractive as possible. What we have done is to use the instrumentality of the Finance Acts to make or propose significant reforms."
The proposed incentives include, reduction in duties on tractors from 35 to 10 per cent,reduction in duties on motor vehicles for the transportation of goods from 35 to 10 per cent,reduction of levy on motor vehicles for the transportation of persons (cars) from 35 per cent to 5 per cent, 50 per cent reduction in minimum tax; from 0.5 per cent to 0.25 per cent for gross turnover for financial years ending between January 1st, 2020 and December 31st, 2021 and granting of tax relief to companies that donated to the COVID-19 relief fund under the private sector coalition (CACOVID) .
In her opening remarks, the Chairman Nigerians in Diaspora Commission Honorable Anime Dabiri-Erewa shed light on the aim of the summit which she said is geared towards increasing diaspora investment in Nigeria.
"The objective of this summit is to establish a platform where Diaspora Investors can interact with potential sponsors, partners, collaborators and government agencies with a direct roundtable deals for mutual benefits".
According to her in addition to the fact that the summit will strengthen investment profile, expand business network and provide an opportunity to showcase global best practices, it will "provide opportunity to meet key decision makers and industry influencers, brand exposure and many more that will help you in contributing to National development. As we are all aware, Nigeria is our country and it is important to bring together all expertise from various fields especially from the diaspora to develop Nigeria".
Dabiri-Erewa attested to the fact that Nigerians in Diaspora are experiencing increased ease of doing business.
In her welcome remarks, the converner of the Summit , Dr Badewa Adejugbe- Williams stressed the relevance of Nigerians in Diaspora to nation building especially with the current realities occasioned by the covid-19 pandemic.
"We need our Diaspora Community more than ever before because they possess the pertinent resources and are at the cutting edge of technology and development. There is no doubt therefore that our Nigerian Diaspora are an asset to their host countries and Nigeria in terms of their resources, skills and talents. The engagement of Nigerians in Diaspora in resurging the economy is more pertinent now as the post COVID-19 economy recovery plan requires global best practices for which the Diaspora are best suited".
She expressed optimism that the summit will result in mutually beneficial business relationships.
"This 2-day Virtual Summit is therefore aimed at creating an avenue for prospective, meaningful and sustainable Diaspora Investment to be relied upon to boost economic growth in Nigeria and also about ensuring that the Nigerians at home and the Nigerians in the Diaspora works together closely to develop a great country".
The theme of the first ever virtual diaspora investment summit is ""Post-Covid EconomyResurgence: Targeting Diaspora Investment"
Key areas of focus in the summit are Healthcare, Education, Agribusiness, Creative Entertainment and Sports, Telecommunication, ICT/Fintech and Manufacturing.