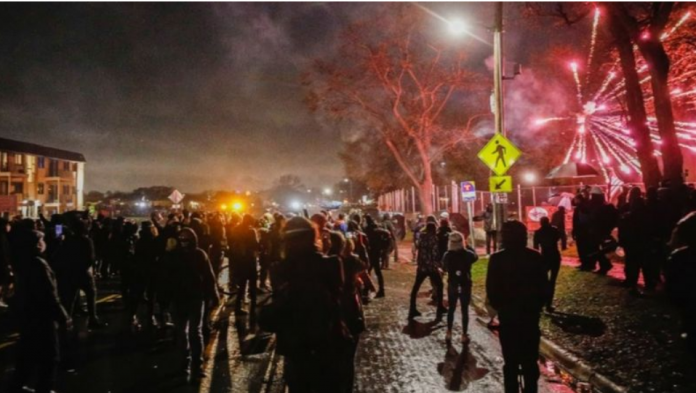 The fatal shooting of a black man by a police officer in the US city of Brooklyn Center in Minnesota was an accident, the police chief has said.
Daunte Wright, 20, was shot after the officer meant to use a Taser, but mistakenly drew her gun instead, Chief Tim Gannon told reporters.
The officer was later named as Kim Potter who has worked for Brooklyn Center Police for 26 years.
Mr Wright's death has sparked protests and a curfew has been declared.
Late on Monday, crowds defied the curfew to gather for a second night outside Brooklyn Center Police headquarters. Witnesses said some threw fireworks and bottles at officers who responded with tear gas and stun grenades.
Tensions in nearby Minneapolis are high as the trial of an ex-officer accused of killing George Floyd continues.
Daunte Wright was pulled over on Sunday for a traffic violation, but there was a struggle when he tried to get back into his car.
At a news conference on Monday morning, Chief Gannon played a short video from the body camera worn by a policewoman, which shows Mr Wright trying to get back into his car as officers attempt to handcuff him on the side of the road.

An officer can then be heard saying "Taser, Taser, Taser" – normal police procedure before firing one of the stun guns. Mr Wright is seen to get into his car and drive away, while the same officer says "I just shot him".
Fatally wounded, Mr Wright crashed a few streets away.
"It is my belief the officer meant to deploy their Taser but shot him with a single bullet," Chief Gannon said, adding: "There's nothing I can say to lessen the pain."
The officer has been placed on administrative leave.
At the same news conference, Brooklyn Center Mayor Mike Elliott said he would do everything in his power to "ensure justice is done for Daunte Wright".
"Our hearts are aching right now, we are in pain right now. We recognise this couldn't have happened at a worse time. This is happening at a time that all of our community, all of America, indeed all of the world is watching," he said.
Protests and overnight curfew
Angry protests erupted in Brooklyn Center on Sunday night as news of Mr Wright's death spread.
Hundreds of protesters chanting his name gathered late outside the police headquarters.
About 20 businesses in a nearby shopping centre were later broken into, the StarTribune reported, with sporadic looting spreading to parts of Minneapolis.
It prompted authorities to enforce an overnight curfew on Sunday night, and on Monday, the mayors of Minneapolis and neighbouring St Paul declared a local state of emergency. Another curfew is in place from 19:00 to 06:00 local time across the two cities.
As darkness fell on Monday, riot police ordered protesters to disperse but the crowd remained, CBS reported. Police then began deploying gas canisters and stun grenades, reporters at the scene said.
Members of the Minnesota National Guard, already deployed for the trial on murder charges of Derek Chauvin, have also been sent to Brooklyn Center.
National ice hockey, basketball and baseball games that were due to take place on Monday night were postponed.
Source: BBC