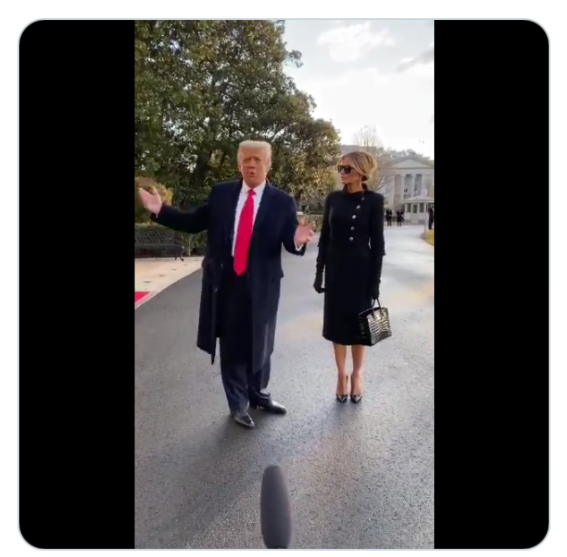 President Trump departed the White House for the final time as president — leaving embattled, twice-impeached and with his lowest approval rating in his four years in office.
Trump, in a black suit with a white dress shirt and trademark red tie, alongside outgoing first lady Melania Trump, in a black dress and coat, walked out on a red carpet before Trump briefly spoke to reporters and, for one last time as president, boarded Marine One, to depart the White House.
Trump's unconventional, norm-busting approach to the country's institutions — that will likely outlast the one-term leader and leave a transformative and divisive legacy in Washington — continue on Biden's Inauguration Day.
He is not greeting the incoming president on the North Portico and joining him to the Capitol, as is tradition, but leaving town early for his Mar-a-Lago Resort in West Palm Beach, Florida, while he still bears the title as president and the aeronautical resources the office provides.
Aides were seen carrying boxes to Marine One ahead of Trump's departure.
As Trump continues to refuse to accept the election results, he has also refused to make contact with the incoming president, despite the Biden's staying across the street Monday night in Blair House — far from the warm welcomes given by previous presidents to their successors, no matter the party lines.
Vice President Mike Pence will not appear at Trump's departure at the White House, nor his "military-style send-off" at Joint Base Andrews. The outgoing vice president is scheduled to attend Biden's inauguration.
Though hours remain in his president, Trump hasn't heard the last of Washington either as he still faces a second impeachment trial in the Senate.
Source: ABC News