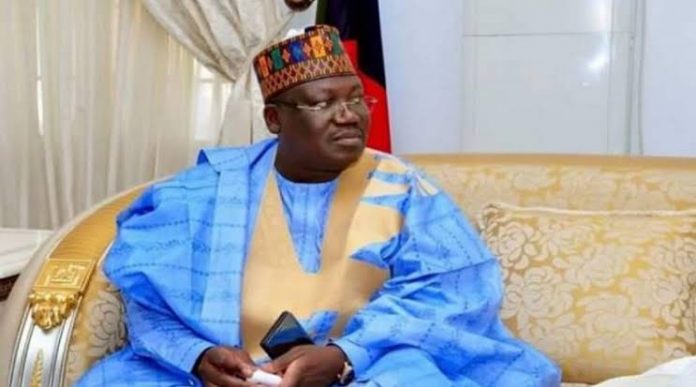 …. Says Yobeans are proud of their Governor, list achievements
Abuja – The President of the Senate, Ahmad Lawan has eulogised Governor Mai Mala Buni and his exco members for a successful completion of those onerous assignments given to him, for resetting the footings of the party and restoring it to the path of greatness.
This is also as he has said the people of Yobe State are extremely proud of Governor Mai Mala Buni for his achievements while he was chairman of the Caretaker/Extraordinary Convention Planning Committee(CECPC) of the All Progressives Congress(APC).
Lawan's commendation was contained in a statement signed by his Special Adviser (Media), Ola Awoniyi made available to newsmen.
Recall that the Governor Buni's committee which was put in place in June 2020 to stabilise the party, handed over in the early hours of Sunday to a newly inaugurated National Working Committee(NWC) during the national convention of the party.
In a congratulatory message on his success as CECPC chairman, Lawan, an indigene of Yobe State, said his fellow Yobeans are proud of Governor Buni's performance while he held sway as the head of CECPC.
"I heartily congratulate His Excellency, Mai Mala Buni, Governor of Yobe State, my brother, on the successful completion of his crucial assignment as the Chairman of the Caretaker/Extraordinary , Convention Planning Committee (CECPC) of our great party, the All Progressives Congress (APC).
"When Governor Buni was called to the assignment in June 2020, the APC was by all appearances in dire straits.
"The CECPC was principally tasked with resolving disputes that were pushing the party to the edge of the precipice in many states and at the national level, and with organizing congresses and the National Convention that would produce new leaders for the party at all levels.
"Governor Buni and his team have successfully completed those onerous assignments, reset the footings of the party and restored it to the path of greatness.
"Notable achievements of the Committee include the reconciliation of agrieved members, membership registration and revalidation exercise which raised our membership strength to over 41 million, up from 11 million; record high-powered defections into the party, conduct of congresses at ward, local government and state levels and review of our party's constitution to remove ambiguities and provide the missing lines.
"These are wonderful achievements worthy of commendation by all party faithful. In providing leadership and direction for these accomplishments by the CECPC, His Excellency Governor Buni proved himself a worthy leader.
"We Yobeans are extremely proud of our Governor for so giving a good account of himself for the period he held sway as the chairman of the CECPC.
"We will also continue to give our maximum support and cooperation to his administration of our dear state," Lawan.