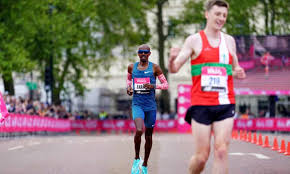 Farah is beaten by Ellis Cross in his first race since June while Eilish McColgan misses a British record by two seconds at the Vitality London 10,000.
Farah, who last raced in June 2021, was unable to out-kick Cross, who won by four seconds in 28 minutes 40 seconds.
Before the race Farah said it would not "make any sense" to keep racing if he could not compete at the top level. "Today was tough and Ellis did well to beat me," 39 year old Farah, told BBC Sport.
Farah, who was unable to qualify for the Tokyo Olympics after fracturing his foot in the build-up to qualifying, added: "It is really important to test your body and see where you are. It has been so long since my last race.
Cross, who represents Aldershot, Farnham & District, said he "didn't quite follow the script" in upsetting Farah in front of a London crowd that cheered him on in the 16,000-strong event."I can't believe it," Cross told BBC Sport.