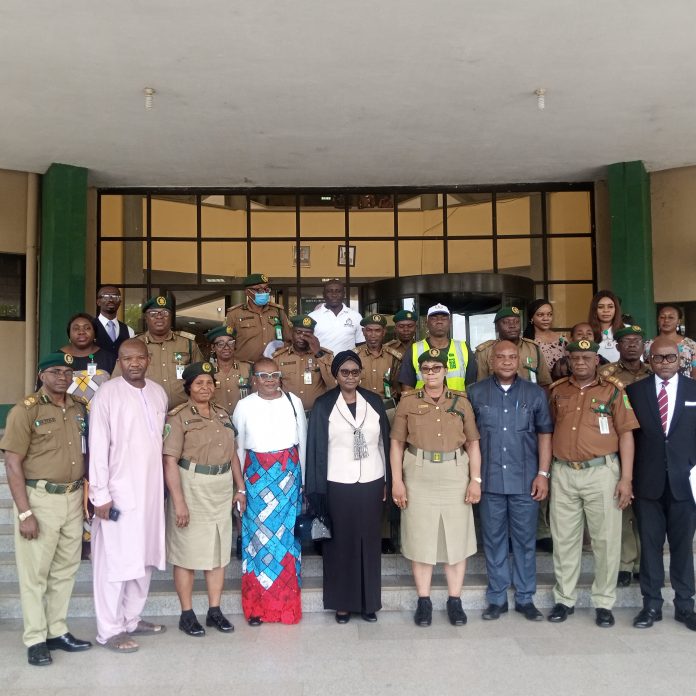 Abuja – The National Human Rights Commission (NHRC) has commended officers of Nigerian Correctional Service, FCT Command for the professional manner with which they interact and take care of the inmates, saying that such attitude will go a long way in reforming the character of those in the custodial facility.
The Chairperson of the NHRC Governing Council, Dr. Salamatu Suleiman who stated this when she led a delegation of the Commission on the 2022 Audit of the Custodial Centre, in Kuje, Abuja observed that the officers have made a difference by connecting to the concerns and needs of the inmates under their care.
The audit exercise which is nationwide was flagged off by the Chairperson Governing Council of the NHRC on the 12th of May, 2022 at the Nigerian Correctional Service Headquarters, Abuja.
The Chairperson who was visibly elated with the attitude of the workers towards the inmates noted that the impression an average Nigerian allegedly has about those in uniform is the application of force, adding that it is not the case with Kuje Correctional Service, "but here there is mutual respect between the officers and the inmates which is good for the entire system".
Earlier, top officers of Kuje Correctional Service took the visiting team of the NHRC round the different segments of the facility, including health centre, kitchen, recreation center, cells, skills/vocation centre, National Open University of Nigeria (NOUN) study centre and places of worship for the inmates, etc.
The Deputy Controller Corrections In-Charge of Kuje, FCT Command, Ibrahim Shehu told the Chairperson and her team that the Correctional Centre was built in 1989 with 560 capacity but now habours 926 inmates.
Continuing, the Deputy Controller stated that inmates that are awaiting trial are 740 while the number of convicts and lifers are 186 and 28 respectively.
Throwing more light on some of the vital statistics of the Kuje Correctional Service, he said that inmates in the facility are between 18 years and above, while the cost of feeding per inmate is N750 daily as against N450 previously.
On some of their major challenges, the top Corrections Officer disclosed that they do not have enough office accomodation and that they occasionally experience logistical problems leading to delay in conveying inmates to the courts in FCT, which according to him are usually sorted out eventually.
The audit exercise is carried out annually on all Correctional Service facilities and other places of detention to ensure that they are operated in line with the international best practices.
The 2022 exercise is taking place simultaneously across the states of the Federation.