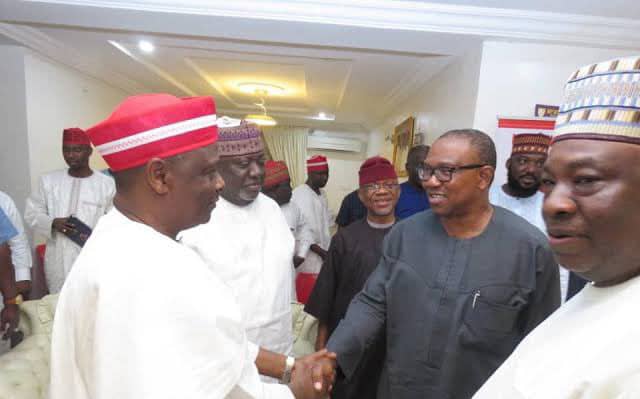 Presidential hopeful and former Governor of Anambra State Peter Obi, has dropped out of the presidential race of the PDP amid talks with the Rabiu-Kwankwaso-led New Nigeria Peoples Party, the Labour Party and the Social Democratic Party.
It was learnt that Obi's defection was part of a grand plot to form a coalition that could defeat the All Progressives Congress and the PDP.
In a letter of resignation addressed to the National Chairman of the PDP, Senator Iyorchia Ayu, the former governor said he was happy to have contributed to the growth of the PDP.
He further stated that recent developments within the party had made it impossible for him to continue in the race.
The letter read in part, "I am writing to intimate you of my resignation from the PDP which was conveyed to the Chairman of Agulu Ward 2. Anaocha LGA Anambra, effective Friday 20 May, 2022. Consequently, I am by this letter informing you of my withdrawal for the PDP Presidential Primaries.
"It has been a great honour to contribute to nation-building efforts through our party. Unfortunately, recent developments within our party make it practically impossible to continue participating and making such constructive contributions.
"Our national challenges are deep-seated and require that we each make profound sacrifices towards rescuing our country. My commitment to rescuing Nigeria remains firm, even if the route differs. I wish to thank you personally for your graciousness and leadership. I wish you well and best of luck in the service of country."
Obi, who enjoys massive support from the youths, had purchased the N40m form of the PDP and was screened to participate in the primary against 14 others on Saturday.
However, it had been difficult for him to bring many of the delegates to his side.
"We are in talks with Labour Party, SDP and a few others. We will announce our new party in the next 24 hours. It will be a party that is also youth friendly since we have discovered that the youths form the bulk of our supporters," said an associate of the former governor.
Another source, however, told The PUNCH that the plan was to form a coalition that could defeat the two major parties.
"There is a plan for some major parties to form a mega party although this is coming quite late. Discussions are still ongoing but Obi is expected to be the Presidential candidate. Kwankwaso is also part of the discussions. Everything will be clear by Thursday," said a chieftain of the PDP.
Attempts to get a reaction from the National Publicity Secretary of the PDP, Mr. Debo Ologunagba, proved abortive as he did not respond to repeated calls.