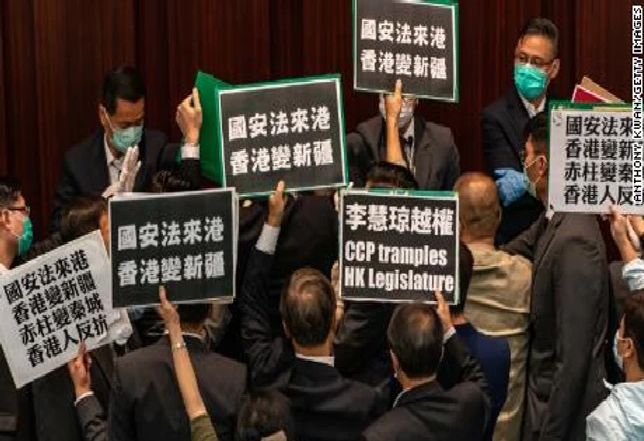 The United Kingdom said Wednesday it would offer a path to citizenship for eligible Hong Kong residents and condemned China's new security law as a threat to the city's freedom.
UK Foreign Secretary Dominic Raab said in an on-camera interview that after "carefully" assessing the contents of the new national security law, it constitutes "a clear violation of the autonomy of Hong Kong, and a direct threat to the freedoms of its people."
He said it was therefore "a clear and serious violation" of the Sino-British Joint Declaration, which laid the groundwork for the city's handover from British to China in 1997 and stated that Hong Kong's existing system of government would remain in place for 50 years.
China's central government on Tuesday night imposed a sweeping national security law that critics say has stripped the city of its autonomy and precious civil and social freedoms, and cements Beijing's authoritarian rule over the territory.
Speaking during Prime Minister's Questions, Johnson said: "The enactment and imposition of this national security law constitutes a clear and serious breach of the Sino-British joint declaration.
It violates Hong Kong's high degree of autonomy and is in direct conflict with Hong Kong basic law.
"The law also threatens the freedoms and rights protected by the joint declaration.
"We made clear that if China continued down this path we would introduce a new route for those with British National Overseas status to enter the UK, granting them limited leave to remain with the ability to live and work in the UK and thereafter to apply for British citizenship — and that is precisely what we will do now."
The UK's Foreign Office said in a news release that "this new bespoke immigration route" would mean eligible Hong Kong residents could move to the UK without the current six month limit, and would have five years limited leave to remain, with the ability to live and work in the UK.
"After these five years, they will be able to apply for settled status and, after a further 12 months with that status, apply for citizenship," the release said.
It said new route will be implemented in the coming months, with exact date and further details to be announced in due course. "In the meantime, we will ensure British National (Overseas) citizens who wish to come to the UK will be able to do so, subject to standard immigration checks," it added.
"This a grave and deeply disturbing step," Raab said in a statement to the House of Commons Tuesday.
He said it was "depressing but necessary" to report that it was "a clear and serious breach of the joint declaration."
He called the new legislation "a sad day for the people of Hong Kong."
As of February 24, 2020, there were 349,881 holders of BNO passports and the UK government estimates there are around 2.9 million BNOs currently in Hong Kong.
Source : CNN