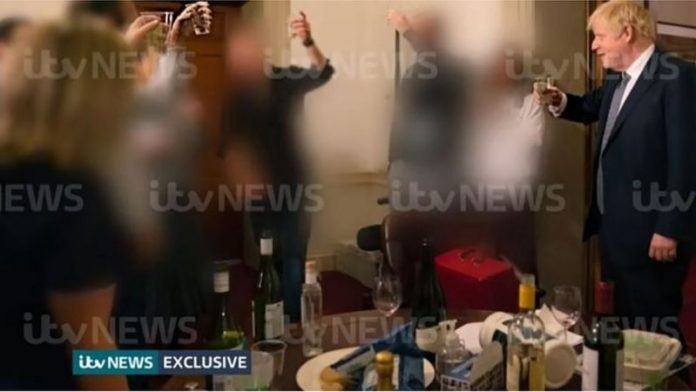 Boris Johnson has been pictured drinking at an event in Downing Street during lockdown.
ITV News has published four photos, saying they were taken on 13 November 2020 at a leaving do for the PM's director of communications, Lee Cain.
The Metropolitan Police have issued fines relating to No 10 gatherings on that date.
A No 10 spokeswoman said the Cabinet Office and the police had had access to information, including photographs.
The BBC has been told that at least one person who attended has been fined by the police. Mr Johnson himself was not.
After the leaked pictures were published, Labour's deputy leader Angela Rayner said the PM had "demeaned his office" and "the British people deserve better".
She added: "Boris Johnson said repeatedly that he knew nothing about law-breaking – there's no doubt now, he lied. Boris Johnson made the rules, and then broke them."
Liberal Democrat deputy leader Daisy Cooper said the images show Mr Johnson "has taken the British people for fools" while the SNP's Ian Blackford called him a "charlatan and a liar"
Source: BBC