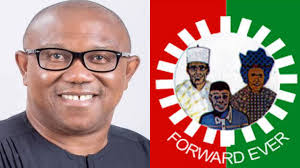 The spokesperson for the Thirdforce Dr Yunusa Tanko has acknowledged the emerging force in the labour movement under Obi/Datti ticket saying, "this is the first time that the labour movement is well coordinated towards a common purpose and common interest".
Dr Tanko made the declaration in his presentation during a virtual discuss organised by the Nigerian-American Coalition for Justice and Democracy last Sunday night in favour of Obi/Datti Presidency.
He said his just concluded sensitisation tour of the Northwest geopolitical zone with the Labour Party's (LP's) Chairman, Comrade Julius Abure and the Secretary, Honourable Umar Farouk was revealing and encouraging.
"Our findings in the seat of the caliphate, Sokoto including Zamfara, Katsina, Jigawa, Kaduna, Kano and Kebbi were astonishing as we discovered that the supports for Obii/Datti Presidency cuts across the core northern states of Nigeria". Dr Tanko stressed adding the party leadership had done incredibly well in grassroots mobilisation of workers.
He explained that "when we got to Sokoto the only standing gigantic billboard was that of Obi/Datti while some were destroyed signifying acceptance of the Obi/datti candidacy.
"By the time we finished the sensitisation programme in Sokoto, a physically challenged lady, by name Aisha wept uncontrollably saying am going to support the Obi/Datti ticket with my vote.".
De Tanko praised a particular Sokoto resident who he described as Comrade Ikenna Ikeagwu, a Pharmacist who according to him has deployed his energy and resources in mobilising supports for Obi/Datti.
The Thirdforce spokesman further observed that the Trade Union Congress (TUC), the Nigerian Labour Congress (NLC and all the trade unions across country were well galvanised for Obi/Datti project adding that, "there is an urgent need for proper coordination and infusion of these unions into the Obidient family which comprised of fifteen support groups " .
The 150 support groups across Nigeria according to him, "consist of different groups across various endeavours.
We have the intellectuals, financials and volunteer central groups working day and night to ensure victory is attainable next year."
On 2023 projections:
"The 2023 elections is close by and we have the youths behind us and the figures are looking up towards as the recently released figures of newly registered voters in 2022 are 12million with youths having 71percent which represents 8.7m youths between the age of 18 – 34 years.
"Out of 2022 registration, in Kano had 569,000, Lagos 585,639, Rivers 473,974.
"These are verifiable figures in the public domain that can be cross checked by anybody.
"The catch here is that we can't match the money bags money for money, intimidation for intimidation but we can match them with a procedure that I can't disclose here for security reasons.
"There's an urgent need to arrange the various volunteer groups into a central body for proper coordination to achieve greater results.
"The NLC, TUC, the various critical stakeholders, now is the time to collapse all into a central group because we all have a home now.
"So far so good we have the cleanest campaign approach strategy and this we must maintain and by God's grace victory will be ours in 2023.
Other participants at the webinar and speakers include Professor Eddie Oparaji, a former NADECO chieftain and convener of Nigerian-American Coalition for Justice and Democracy… Obi/Datti Presidency, Moderators: Chijike Ndukwu and Dr Jude Iheoma.